PROBLEM:
Outlook Web Access (OWA) not displaying the graphics and not loading mail content. The OWA window shows image blacks with red X's in them where graphics should be displayed. There is a screen capture below.
But, it works fine inside and not outside.
CAUSE:
It maybe caused by incorrect permission or restriction on the ExchWeb virtual directory in the IIS
SOLUTION:
* Open IIS Manager
* Expand the Default Web Site
* Locate the ExchWeb virtual directory and right-click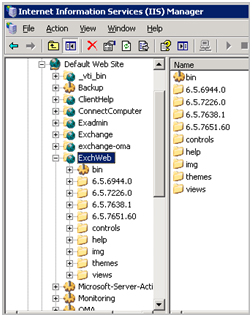 * Click on the 'Properties' and select the 'Directory Security' tab
* Click on 'Grant access' from the IP address access restriction group.
* Click OK and close the Windows.
Reference:
http://support.microsoft.com/kb/280823/en-us
Apply to: Exchange Server 2003 and Outlook Web Access (OWA)
by George Lopez-Henriquez / www.inetnj.com